Cesky Days
Lovers of the Cesky Terrier meet each year in early May in Bohemia.
In 1992 Mr Horak suggested that Cesky Terrier owners should meet together in an informal setting to learn more about the breed. For ten years the gathering was held in the Bohemian countryside north of Prague, at a small campsite on the bank of the R. Vltava beside the chateau of Veltrusy.
The floods that ravaged the Czech Republic in the Autumn of 2002 swept away the campsite, and since then various other venues have been used. However, to Cesky Terrier owners around the world, the name Veltrusy is still synonymous with a gathering of friends in the Czech Republic at the beginning of May, each year.
The weekend follows a set pattern each year, with a formal opening followed by demonstrations of grooming, an informal working competition and, on the Sunday, the Club Show. With entries from all over the world, a win at this show is the aim of all serious breeders.
In 2008 owners and lovers of the breed from Poland, Germany, Norway, Italy, France, Belgium, Netherlands, UK and USA joined together with the Czech Club to celebrate the 45th anniversary of the recognition of the Cesky Terrier.
I feel that it is important to attend this gathering as often as I can - I have only missed a few years since 1992 - in order to keep in contact with other breeders and to see how the breed is progressing.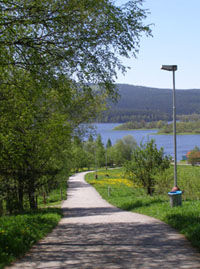 In 2011 the 19th Days of the Cesky Terrier were held at Hrdonov on the shores of Lake Lipno in Southern Bohemia and I was very privileged to be given the honour of judging the Club Show.
My Best in Show was Int Ch Cassandra Orest Kalimera
Over the years I have taken several of the team to Cesky days. Most successful has been Pamatka. She is to date the only British-bred, owned and handled Cesky Terrier to become a Champion in the breed's homeland.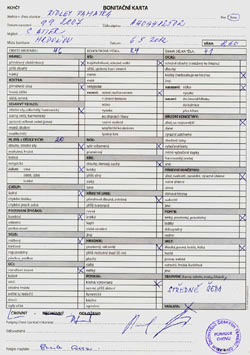 One important part of the weekend is the Bonitace. This is a rigorous examination that assesses all the various factors of each dog - height, weight, chest circumference, dentition, anatomy, coat texture, temperament and movement. Only if all sections are considered satisfactory is the dog approved for breeding in the Czech Republic. Over the years I have taken several of my dogs for this assessment, and all have passed.