Ref:
Date:
Location:
Photographer:
Ref:
Date:
Location:
Photographer:
Int/Ir Ch Emily Day Break CW'13, An Ch'12
Gloria's grand-daughter came over to England and after having a litter in May 2012, went over to Janine and Patrick.
Photo by RBT
She and Patrick have developed a wonderful rapport, and at her very first show she was shortlisted in the terrier group.
Int/Ir Ch Emily Day Break CW '13, An Ch '12
Sire: Ridley Obrazek
Dam: Int/Cz/Pol/Sk/KCHT Ch Xandra Kalifa Bohemica
DoB: October 11
th
2010
Breeder: Mariola Dziemidzowicz
KC Championship Shows:
1 x BOB
1 x Puppy Group 1
Qualifier: National Terrier Open Show dog of the Year
FCI Shows:
5 x CACIB, 12 x Green Star
Annual Champion 2012 (Ireland)
Celtic Winner 2013 (Ireland)
Top Dog 2012 - Ireland
COI: (10 gen) 57.7105%, (5 gen) 5.29%
Eye Test: Clear - 5/11/2011
Patella Luxation: 0/0 (Putnam 1968 Scoring System)
Some of Emily's critiques:
Glogow (International), January 2011
3.5 month old female, head not finished, changing teeth, dark eye, good ear placement, good chest, typical topline. Good coat for this age, correct movement, presented herself very well.
BIS Baby 4
(Judge: Sonia Pagani)
Terrier Club Show, May 2011
7 month old female, nice head, beautiful neck, correct topline, good chest, narrow croup, good coat.
RBPIS
(Judge: Malgorzata Supronowicz)
Nowa Ruda, May 2011
7 month old female with nice head, excellent bite and strong teeth. Good ear and dark eye. Good neck, excellent topline, good placement of tail. Good chest, excellent coat and preparation for the show. Good movement. Beautiful presentation in the ring.
BPIS4
(Judge: Leos Jancik)
Cesky Terrier Club, August 2011
Very nice in type. Excellent size and topline with a correct tailset, liked her head, ear could be smaller, nice eye, well angulated in front and rear, nice puppy coat, good mover.
BPIS
(Judge: Hans vd Berg)
Photo by RBT
Belfast, September 2011
Nice grey bitch, pleasing head, correct bite, nice front & shoulders, body of nice length with rise over loin, nice quarters, moved true both ways, carrying a neat well set tail.
BP & RBB
(Judge: Alan Small)
Northern Counties Sporting Terrier, September 2011
Well grown bitch, pleasing head, lovely expression, liked her overall balance and type, excelled in forequarters and rear angles, in good order throughout, moved freely with good rear drive.
BP, PG4
(Judge: Fran Kaye)
South Wales Kennel Association, October 2011
A lovely quality, soundly made bitch, up to size but good overall balance. Attractive head correctly proportioned, good eye and expression, well carried ears, elegant neck, well laid shoulders, good forequarters, good ribs and body of nice length, rise over the loin, good hindquarters, tail and carriage. Moved and showed very well. I was pleased to see her take the Terrier Puppy Group, well done!
BP
(Judge: Peter Bakewell)
Caught my eye for shape and size and she did not disappoint. I liked her head and beautiful eyes; she excelled in body and her front and rear quarters were correct for age. she showed a stunning profile outline and moved beautifully.
PG1
(Judge: Frank Wildman)
Photo by Carol Ann Johnson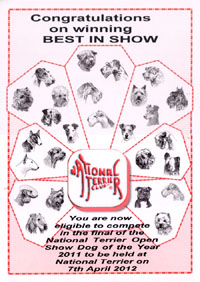 Bury Sporting Terrier, October 2011
This young lady fulfils the standard to a tee. She is just lovely to go over, balanced head with strong clean muzzle and good under jaw, high set close hanging ear, reach of arched neck, well bodied with arched loin. Great condition and silky coat, great propulsion on the move and sensible confident air.
BIS
(Judge: Patsy Hollings)
This win qualified Emily for the National Terrier Open Show Dog of the Year competition.
Birmingham Gundog & Terrier
Outstanding youngster. Good length of head with strong jaw and correct dentition. Ears of good shape and carriage. Well angulated and correct rise in topline. Silky coat and wow, can she move! She really covers the ground in great style.
BOB & G3
(Judge: Marion Reeves)
Midland Counties, October 2011
Feminine girl, attractive head and expression, wouldn't want any more of her. Moved out well.
RBB
(Judge: Adrian Marett)
Manchester & District Sporting Terrier, November 2011
One that's taken my eye previously from the ringside. On closer inspection she did not let me down. A lovely feminine head, with such a friendly expressive look, topped off with a large black nose. Body of correct length, rising over loin. Good sprung ribs and brisket. Well off for bone & good angulations. This show girl's movement around the ring was a joy to watch and she was handled to perfection.
BOB
(Judge: Mark Walshaw)
Boston, January 2012
This super bitch just exudes quality, balance and type. She is skeletally so sound, which is topped by correct body and muscular definition, that she has to move with correct action. However her confidence and style on the move allows economical ground-covering gait. In perfect order and coat. A pleasure to judge.
BOB
(Judge: Patsy Hollings)
West Midland Terrier Society, February 2012
Well made bitch, good head and expression, well muscled throughout, which produced true fluid and energetic movement.
1st Open Stakes
(Judge: Max King)
Sire
Ridley Obrazek
Sire
Woodstrode Artus
Sire
Ned/Lux Ch Stanislav Kvitko
Dam
Ridley Jitka at Woodstrode
Dam
Gloria Kvitko
Sire
Cz Ch Lotr Kvitko
Dam
Cz Ch Palava Ginoch's Kvitko
Dam
Multi Ch Xandra Kalifa Bohemica
Sire
Resinous Blue Admiral
Sire
Nord Ch Resinous Mugwump
Dam
Nor Ch Dainty's Repeat Kissing
Dam
Pol Ch Nymfa Kalifa Bohemica
Sire
Lisak del Monte de Haya
Dam
Idea Kalifa Bohemica