Ref:
Date:
Location:
Photographer:
Ref:
Date:
Location:
Photographer:
Dk/Lux Ch Oneva Eduard Malsville ShCM
ERIK
After a successful show career, and an even more successful career as a stud dog, Erik has taken his pipe and slippers and gone to live with Margaret Bowerman and Woodstrode Cesmina. He is one of the sweetest dogs I have ever owned, and has passed his lovely temperament on to all his children.
We wish him many happy years of retirement.
Sire: Lastarean Dufek ShCM
Dam: Cristyna of Cesky Dreams for Oneva
DoB: October 19
th
2007
Breeder: Doreen Newman-Bright
Danish Champion
Danish Terrier Club Champion
Luxembourg Champion
UK Championship Shows:
2 x BOB, 4 x BOS
FCI International Shows:
5 x CACIB, 5 x CAC
DNA Profiled
Eye Test - Clear: 15/3/14
Patella Luxation: 0/0 (Putnam 1968 Scoring System)
Heart Test - Clear: 25/2/2014
COI: (10 gen) 57.1326%, (5 gen) 15.97%
KC Good Citizen, Bronze Award
Bonitace: 6/5/2012
It is as a stud dog that Erik has really left his mark.
His first litter was out of Wendy Tobijanski's
Janski Celtic Ceska
.
Photo of Ceska courtesy of the KC
Janski Born To Be Wild
won 2 BOB and 9 BOS championship show awards and was the top winning male in the UK in 2011.
From his next litter
Ridley Tomáš
(ex
Ridley Pamatka
) was Joint Top Puppy, 2011.
Photograph of Erik and Tomáš by RBT
His third litter, of six pups, (ex
Int/Ir Ch Emily Day Break
) was born on May 21
st
2012.
Four of these pups are now Champions:
Ridley Ulrika
is an Irish Champion
Ulita
is a Swedish and Norwegian Champion
Ulicnik
is an Irish Champion and Junior Champion, has Celtic Winner and Celtic Junior Winner titles in Ireland and was the first Cesky Terrier to gain a group placing in Ireland. He was Junior World Winner in Hungary 2013, Interra Junior Winner and is a Hungarian Junior Champion.
Unikat
is a Swiss Champion and was European Winner in Switzerland 2013.
Photograph of Nico by Janine Dooner
Erik's fourth litter (ex
Uhlava del Monte de Haya
) was born on March 12
th
2013 and consisted of 2 dogs and 2 bitches. Uhlava carries important new lines that will benefit the breed in the UK. Erik's son
Grancek Otakar Malsville
was successful in the show ring and sired a litter out of Anika, before going to live in the United States, where he is showing his abilities as a tracking dog.
Photo of Otto at ten months
His next litter in the UK was born on October 23
rd
2013, out of
Kilbarchan's Anika Ridley
and consisted of two bitch puppies -
Ridley Vyborna
won PG3 at the National Dog Show first time out.
Anika's sister,
Dk Ch Kilbarchan's Aviaja
(owned by Kirsten Toftkjaer), was also mated to Erik and whelped four puppies (3 dogs and 1 bitch) in Denmark.
On August 5
th
2014 Int/Est/Fin Ch Chalma's Giselle whelped a litter of two puppies by Erik, after chilled semen was sent to Finland.
Galbraith Caffery won Best Baby Puppy in the Terrier Group at his very first show.
Some of Erik's show critiques:
East of England, July 2008
Super puppy, lovely for size and with a stunning head and outline, excellent coat quality, moved well in the class, but had had enough by the time it came to the dog challenge or he might have gone further.
BP
(Judge: Sheila Atter)
SKC, August 2008
Good all round, typy with good head, nice dome and furnishings, big nostrils, good body for age, of nice length with rise over loins and strong quarters, lots to like about him, when he settles down he will trouble the best.
BD
(Judge: Alan Small)
Boston, January 2009
Super young quality dog of good constuction, good front and topline, correct tail carriage, excellent presentation, moved with drive and reach.
BOB
(Judge: Eileen Foy)
Photo by RBT
Three Counties, June 2009
Good bite, clean neck and shoulders, correct topline, moved OK.
RBD
(Judge: Jane Withers)
Cesky TC, August 2009
Excellent head properties with good ears, pleasing body proportions, good coat, moved well when settled, very typy.
(Judge: Pat Chadwick)
Lincoln CS, December 2009
Looked very good in profile, pleasing head shape, correct ears, eyes and mouth, muscular neck leading into well laid shoulders, ribs well sprung, strong upper thighs, well padded feet, moved very well and in good coat.
BOB, G4
(Judge: Colin Powell)
Ashbourne CS, December 2009
Balanced dog of good type, clean long head, correct mouth, dark eye, typical topline. Can let himself down on the move.
BOB
(Judge: Stuart Plane)
Boston, January 2010
Good head, correct bite, dark eyes and well placed ears. Movement a little erratic as he preferred sniffing the funny green stuff under his feet. Correct tail carriage.
RBD
(Judge: Val Kemeny)
Cesky TC, April 2010
Masculine head of quality. Perfect bite, super expression. Correct length of neck, shoulders ok. well ribbed, well balanced, moves well especially in hindquarters. In fine fettle through out.
RBD
(Judge: Sherrill Goodwin)
Cesky TC, August 2010
Correct size and very pleasing head, good strong muzzle, ok neck, good ribs and shape of brisket, liked his front, strong body for size, ok quarters, tailset good, went well.
BPostGrad
(Judge: Martin Phillips)
Bournemouth, August 2010
Very typy and nice to see a good trim with some hair left on his back. Well placed ears, nice head type, strong neck and a tidy front to FCI standard, although we ask for shoulders set a wee bit further back. Excellent top line, croup and tail carriage, powerful rear and true front movement.
(Judge: Zena Thorn-Andrews)
LKA, December 2010
Very well put together, sound mover, correct topline and tailset, well shown.
BD & BOS
(Judge: Betty Rice-Stringer)
Photo by Keith Holroyd
Bury Sporting Terrier, February 2011
Well constructed and balanced with a good head and expression, well bodied, excellent quarters, moved well both ways holding a good topline on the move.
BOB
(Judge: Bob Blackley)
Cesky Terrier Club, April 2011
Super head, correct dentition, good ear placement, long arched neck, muscular forequarters, kept topline, superb angulation behind, nicely presented. Moved with reach and drive. Quite a showman.
BD & RBIS
(Judge: Linda Matthews)
Manchester Sporting Terrier
Quality dog, nice size with grand head, good skull with well set ears and dark eye. correct mouth, nice neck to well ribbed body of nice length with rise over loins, strong quarters which he used to give good drive, moved true.
BOB
(Judge: Alan Small)
Leeds, July 2011
Balanced head & skull, pleasing expression, scores in neck & topline with well set & carried tail. A little hesitant on the move at first but settled down to put in a good round. Has passed on his worthy attributes to his son.
RBD
(Judge: Roger Thomas)
Vejen, Denmark, July 2011
A male with good size, very good outline, well-shaped head, strong neck, typical topline, good body, very good muscle, good bone, sometimes somewhat reluctant in moving, but eventually went very well.
BOS, CAC, CACIB
(Judge: Per Iversen, Norway)
Typical 3 year old, excellent type and size, good bone and body substance, strong masculine head, typical expression, good earset, good topline, good angulation in front and behind, good coat and colour.
BOB, CAC, CACIB
(Judge: Lyudmila Tchistiakova, Russia)
Masculine dog of correct size, pleasing overall impression, strong head of correct length, good expression and correct bite, good neck and front, good length of body and correctly arched loins, muscular hindquarters, good coat and movement and turned out well.
BOS, CAC, CACIB
(Judge: Ingrid Borchorst, Denmark)
Quality dog with correct headshape, very good bite with big teeth, correct rise over loin, in very good muscle tone, moved extremely well.
BOS, CACIB
(Judge: Bill Browne-Cole, UK)
Danish Terrier Club, Hedensted, September 2011
Correct size, not long body, acceptable colour, typical head, little low set ears, correct topline, rather open in angulation, very nice mover.
BOB, Club Cert.
(Judge: Brigita Kremner, Slovenia)
Danish Terrier Club, Hobro, October 2011
Very nice male, excellent topline, muscle, angulation, chest, neck, coat texture and grooming and colour. Excellent proportions of head, excellent set on of ears, very nice eye shape and colour, excellent teeth, complete dentition, excellent movement and presentation.
BOB, Club Cert.
(Judge: Catherine Lebret, France)
KCHCT, May 2012
Very strong, good frame, very good trimming, excellent quality coat, scissor bite, excellent ears, short, strong neck, cobby body, higher set tail, excellent length of tail, straight front, good angulation and movement.
V1
(Judge: Hana Petrusova)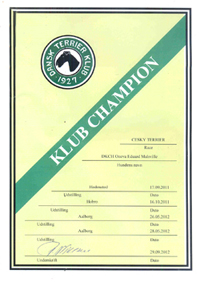 Danish Terrier Club, Aalborg, May 2012
4 years old, excellent breed type, excellent head and expression, well put together, strong body, lots of substance, excellent coat and colour, moves and shows very well.
BOB & Club Cert.
(Juge: Margret Moller-Sieber)
Excellent head and expression, very good neck and topline, super body, well angulated, goes like clockwork
BOB & Club Cert.
(Judge: Jul Hamlot)
Belfast, September 2012
Excellent example of a mature Cesky male and I see he is a son of a great favourite of mine, best of heads with excellent balance of skull and foreface, lovely eye and correct bite, great strength in his neck, runs easily and neatly into a top notch front with strong boned legs and neat rounded feet, excels in rib in both shape and spring, such strength in loin giving the body shape synonymous with the Cesky, a lovely mover both ends and in profile. He won this class with a bit to spare.
BD
(Judge: Bob Cross)
Sporting Terrier Association of Yorkshire, November 2012
Have met this dog before and liked him then, he did not disappoint, he has improved. Super head of good proportions leading into strong neck and well placed shoulder, correct size and length, good spring of rib and required slight rise over loin. Moved with purpose, a showman.
BOB
(Judge: Linda Matthews)
Lancashire Sporting Terrier Association, November 2012
Super dog who impressed with his strong neck, deep chest, topline & tailset, powerful movement, friendly disposition.
BOB
(Judge: Margaret Russell)
This fully mature, handsome dog moved soundly and with purpose, his coat gleamed with health, beautifully presented.
BOB, G3
(Judge: Claire Hindley)
Lincoln CS, December 2012
Lovely sized dog, in excellent coat, classic head, well placed ears, correct eye giving wonderful expression. Excellent front, correct depth of chest, ribs well sprung, pleasing rise to arched loin, uses his strong muscular quarters to advantage on the move.
BOB.
(Judge: Ann Bradley)
Sleaford, December 2012
Really good head/expression. Correct topline. Well angulated fore and aft and presented beautifully. He moved soundly but didn't appear overly happy with the floor surface.
BAVNSC
(Judge: Claire Sharp)
Sporting Terrier of Yorkshire, February 2013
5 years male, showed well with enthusiasm, nice size & shape, lovely head, good mouth & ears, nice neck & shoulders, good ribs, moved well with drive keeping his topline.
BOB
(Judge: Wendy Tobijanski)
Darlington, September 2013
Nice head and eye, OK in shoulder, correct topline, good turn of stifle, in good muscle tone, moved OK when settled.
RBD
(Judge: Paul Wilkinson)
Driffield, Spetember 2013
Very nice looking dog, well presented, moved ok when settled.
BOS
(Judge: Peter Chappell)
Northern Counties Sporting Terrier, September 2013
Lovely over all outline, skull slightly arched, head medium broad triangle, deep set eyes and the correct ear carriage, elegant but strong neck running down to muscular shoulders and straight fore legs, correct topline and strong rear quarters which helped with the movement true front and rear.
BOB
(Judge: Julie Harrison)
Hillsboro'(Sheffield), October 2013
Soundly made, well balanced dog of good type, good outline. Good head, neck and shoulders, good ribs, nicely made body, muscular loin, strong hindquarters, moved soundly with drive.
BNSC, G1
(Judge: Peter Bakewell)
This win gave Erik the final points for his Show Certificate of Merit.
Ladies Kennel Association, December 2013
Nice size, super head and expression that commands attention. Super neck and shoulders, correct body length and good rise over loin, well presented and moved well.
RBD
(Judge: Linda Matthews)
CRUFTS, March 2014
Good type & expression, short coupled, good spring of rib, when he got his nose off the floor he went well.
1st GCD
(Judge: Adrian Marett)
Luxembourg, March 2014
CAC, CACIB, BOB
(Judge: Margret Moller-Sieber)
Luxembourg Champion
National Terrier, April 2014
Quality dog of nice size, typy with good head and expression, correct mouth with big teeth, good muzzle with big nostrils, pleasing front with good bone, correct ribbed body of balanced length giving an overall pleasing profile with correct tail carriage and set on.
RBD
(Judge: Alan Small)
Border Union, June, 2014
6 years male of excellent type. Masculine all through with nice head planes. Correct eye, mouth & ears. Pleasing front & good angulation. Excellent body proportions. Good tail carriage. Topline could be better. Has passed his good points on to his son [
Vilem
]. Moved steadily.
BOB
(Judge: Pat Chadwick)
Sire
Lastarean Dufek ShCM
Sire
Oneva Demon Malsville
Sire
Nor del Monte Kvitko at Ruomyes
Dam
Int Ch Drahousek Brusinka
Dam
Komidion Encore avec Lastarean
Sire
Twister Kvitko Komidion
Dam
Komidion Bohemian Bliss at Vandell
Dam
Cristyna of Cesky Dreams at Oneva
Sire
Kardinal Kvitko
Sire
Ideal Lovu zdar von Klanovice
Dam
Cz Ch Palava Kvitko
Dam
Int/Multi Ch Berenica Pibaro
Sire
Cz Ch Vitez Kvitko
Dam
Int Ch Alpina Kvitko