Ref:
Date:
Location:
Photographer:
Ref:
Date:
Location:
Photographer:
Placido Algebra at Rayol
Anya joined us a couple of times in Summer 2016 to augment the Game Fair team. She fitted in so well, that I managed to persuade her breeder she should become a permanent member of Team Ridley.
Sire: Multi Ch Grancek Early One Morning
Dam: Rylandson Zeleny Hora at Placido
DoB: March 14
th
2013
Breeder: Jayne Rusby
COI: 44.35% (10 gen), 5.33% (5 gen)
At the age of five months
Anya has been shown only very occasionally, but she has nevertheless had some good wins, handled by Caroline Smith and Eileen Roberts.
Some of Anya's critiques:





CRUFTS, March 2014
Confident and outgoing youngster, feminine head and expression, coat needs to clear but did enough to take
BP
(Judge: Adrian Marett)
Photo by Andrew Brace
South Wales, October 2014
This very sound moving bitch was another that pushed all the way for top honours. A real showgirl that was very well handled and moved to perfection.
BOS
(Judge: Gerrard Morris)
Boston, January 2015
Feminine bitch who caught my eye as soon as she entered the ring. Lovely head and expression, nice dark eye, good bite, well laid back shoulders, good spring of rib, good arch of loin, moved with drive. Pleased to award her
BB and BOB
(Judge: Margaret Whitehead)
Anya is such an outgoing, friendly girl that she has proved to be a natural when it comes to meeting and greeting the public at the Game Fairs. She also adds an extra dimension to our team in terms of colour variation.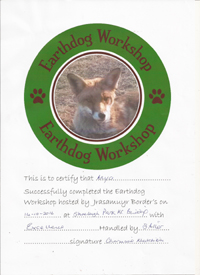 She has successfully taken part in earthdog training, and has also shown that she can follow a deer track very accurately, so over the winter we will do some more formal tracking training with her.
Photo by George Blair
Sire
Multi Ch Grancek Early One Morning
Sire
Grancek Dominik
Sire
Oneva Boruvka at Grancek
Dam
Grancek Buchta
Dam
Pendevour Dana at Grancek
Sire
Andras Andel of Pendevour
Dam
Ridley Bystra of Pendevour
Dam
Rylandson Zeleny Hora at Placido
Sire
Fr Ch Duffy du Champ d'Eole
Sire
Fr Ch What Women Want
Dam
Collin z Vrculky at Pajanticks
Dam
Komidion Vandell Candy Girl
Sire
Komidion Hurdy Gurdy at Casterdan
Dam
Komidion Fortissimo at Vandell