Ref:
Date:
Location:
Photographer:
Ref:
Date:
Location:
Photographer:
Ridley Vyborna
Her name 'Vyborna' is Czech for 'excellent' - and we have high hopes of Miss Havoc!
Sire: DK/Lux Ch Oneva Eduard Malsville ShCM
Dam: Kilbarchan's Anika Ridley
DoB: October 23
rd
2013
Owner: Sharon Clark
At her very first show, the National, Havoc took BP, and went on to Puppy Group 3, making her the sixth Ridley bred or owned puppy to take a group placing at a Championship Show.
Photo by Nick Carter
COI: (10 Gen) 46.63%, (5 Gen) 17.70%
1 x BOS, 3 x RBB
Some of Havoc's critiques:
The National Dog Show, May 2014
Good head & eye. Moving well, with good topline.
BP, RBB
(Judge: Jean Lanning)
Well balanced, 6 month old bitch. Excellent type, correct topline and very soundly constructed. You don't see that quality too often, so really enjoyed it.
Puppy Group 3
(Judge: Moa Persson )
Bath, May 2014
Very promising puppy of lovely size and shape, really enjoying proceedings and moving well. Still in puppy coat but head proportions, topline, body and tail carriage and movement all pleased me.
BP
(Judge: Frank Kane)
Photo by Norina Evans
Royal Cornwall, June 2014
This very feminine bitch took the eye as she moved around the ring demanding her place and pulled out all the stops to gain the group and the puppy group, Good balance of long head, brown expressive eyes, neat earset, strong scissor bite, elegant neck falling into well laid back shoulders, medium length of body rising slightly over loin, slight tuck-up, well sprung rib, muscular rear, good round feet, tailset and carriage correct, well presented in good silky coat, moved with drive around the ring.
BNSC, BP, G1, PG1, RBPIS
(Judge: Moira Barrass)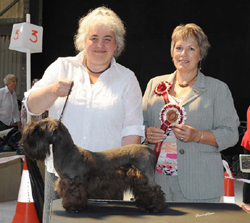 Liskeard, July 2014
BP, RBNSC, PG1
(Judge: Carolyn Fry)
Photo by Dewerstone Photography
Welsh Kennel Club, August 2014
A good headed bitch with a strong jaw and lovely big strong white teeth. Well boned with well laid shoulder and good spring of rib. Broad strong loin and strong well muscled hindquarters. Moved out well with plenty of drive. Schooled and presented to best advantage.
BP
(Judge: Tom Mather)
Paignton, August 2014
A quality puppy and a real showgirl for her young handler. Pleasing head and expression, big strong teeth. Good topline and length of body with the desired slight rise over loin. Moves out briskly and with verve. Close up in puppy challenge, just preferred the dog pup's [
Vilem
] coat finish today. Am sure she will have a bright future.
RBB
(Judge:Vanessa Cox)
North Devon, August 2014
Super pup, excellent breed type, nice head, good body shape, moved well, in great coat and condition.
BNSC, BP, G3, PG2
(Judge: Moray Armstrong)
Bournemouth, August 2014
10 months old, pleasing young puppy bitch with nicely proportioned head, good ear placement and correct bite. Correct body shape and good forehand, with rise over loin. Moved well.
BP
(Judge: Lynne Richardson)
Camborne & Redruth, September 2014
Balanced on the eye, pleasing feminine head, good eye and expression. Excitable on the lead, but had settled enough in the puppy group to take
PG1
(Judge: Rachael Pearce
)
A promising bitch with a good headshape and ears, correct topline, in good muscletone and moved true both ways.
RBPIS
(Judge: Bill Browne-Cole)
CRUFTS, March 2015
Very sound bitch, good strength to muzzle, correct bite, big body, in good muscletone, couldn't stand wrong.
1st JB
(Judge: Bill Browne-Cole)
Paignton, August 2015
Feminine, balanced head, dark eye, well placed ears of good size, good neck and body shape, strong loin and well set tail, very active with nice brisk action, good drive, presented in good coat of correct texture,
BOS
.
(Judge: Tom Johnston)
1st YKC Stakes
(Judge: Kirsty Miller)
Photo by Farlap
Bournemouth, August 2015
Well proportioned, well placed ears on a good skull, good topline, soft furnishings but would like more coat on body, moved OK.
RBB
(Judge: Jane Withers)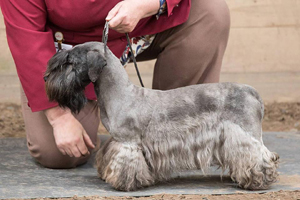 Okehampton, September 2015
Keen showgirl with good layback of shoulder, well set and carried tail. Lovely head, eye and expression, in good coat and condition. Eventually moved very well, that is when she could be persuaded to stop cutting corners with over-enthusiasm!
BOB, G4
(Judge: Jane Lilley)
Photo by Nick Carter
CRUFTS, March 2016
YKC Stakes
Smart Cesky, good topline, outline, deep chest. Nicely shaped head & skull, strong backline, well muscled, good feet. 2
nd
(Judge: Annette Oliver)
Sire
Dk/Lux Ch Oneva Eduard Malsville ShCM
Sire
Lastarean Dufek ShCM
BOB Crufts 2008
Sire
Oneva Demon Malsville
Dam
Komidion Encore avec Lastarean
Dam
Cristyna of Cesky Dreams at Oneva
Sire
Kardinal Kvitko
Dam
Multi Ch Berenica Pibaro
Dam
Kilbarchan's Anika Ridley
Sire
Ridley Tomáš
Sire
Dk/Lux Ch Oneva Eduard Malsville ShCM
Dam
Multi Ch Ridley Pamatka ShCM, DKKV'11, KV'13
Dam
Rossau Time Will Tell at Kilbarchan
Sire
Rossau Highlife
Dam
Rossau Poem