Ref:
Date:
Location:
Photographer:
Ref:
Date:
Location:
Photographer:
The Danish Connection
Although there have been Cesky Terriers in Denmark for more than twenty five years the breed has struggled to survive there.
Kirsten Toftkjaer (Scotsman's Kennel) had been working hard to increase the Danish Cesky Terrier population but without much success - her bitch
Beauty Pibaro
had just one puppy - the only puppy born in Denmark in a twenty year period. Erik visited Denmark in the hopes that he and Beauty would have a litter, but sadly this did not happen.
So together we set about trying to improve the situation.
Ace the Knight of Lulu Island (ex Nina Nadherna Ridley), bred in Canada by Liana Kapustina, and Kilbarchan's Aviaja (by Ridley Tomáš), bred in the UK by Helen Moffatt, are now settled with Kirsten in Denmark and on November 15
th
2013 history was made when Aja whelped a litter of four pups (3 dogs and 1 bitch) to Erik.
Erik, Ace and Beauty
Ace inspecting Aja and her litter mates.
Ace, Crufts 2012:
'Sound moving dog with a masculine head, good front, neck and shoulders; nice outline, muscular quarters, covered the ground when moving.
1st JD
.'
(Judge: Jack Watson)
Aja in her new home -
and back in England with her sister for a few weeks, to be mated to Erik.
One of the puppies from her litter - Scotsman's Cumel - has come to join the Ridley gang.
Scotsman's Chrpa won the Horak Memorial Stakes 2014.
Aja's second litter was born on June 11
th
2015, 1 dog and 1 bitch sired by Ace. Chrpa has now had a litter by Ace as well - 1 dog pup, born September 12
th
2015
Exciting times ahead for Cesky Terriers in Denmark!
Winning the Breeders' and Progeny Classes!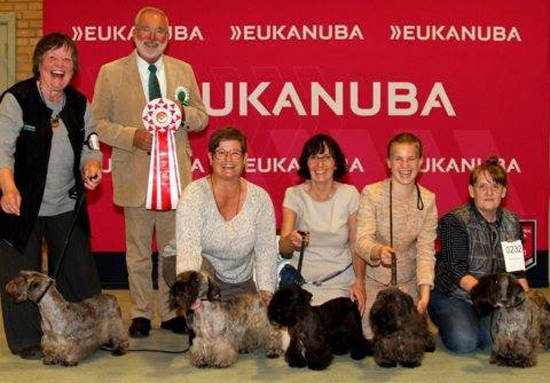 Aviaja with Cedrik, Chrpa, DoDo and Cumel
Scotsman's DoDo DKKV'16