Ref:
Date:
Location:
Photographer:
Ref:
Date:
Location:
Photographer:
Ridley Treasures
Naturally I like to collect artwork and memorabilia with a Cesky Terrier theme!
This Cesky Terrier logo has been in use since the very early days of the breed. I bought this silver pendant at Cesky Days in Hrdonov.
This one came from the very first Cesky Days, held at Veltrusy on the bank of the River Vltava in Northern Bohemia.
A much more modern depiction of a Cesky Terrier - this is a souvenir of my visit to the World Dog Show in Denmark.
Hannah Thompson is a talented young artist who depicted Nadherna Nina Ridley in clay.
Czech artist, Oldrich Dufek, is a lover of the breed and often includes his own Cesky Terrier in his work. When art materials were difficult to obtain during the Communist era, he used coffee as a pigment - this drawing of Ridley Iza is done in that medium.
Paul Adshead, who owned Ridley Fletna von Manderley, painted this for me as a present for Jitka Paulinova - it depicts three of her best known Cesky Terriers - Ben Prasek, Chyba Kvitko and Kulicka Kvitko.
In a very different style is this painting of Gloria Kvitko, done in acrylics by Michael Peach.
I bought this model at Brno International Dog Show one very cold, snowy February.
This pretty 'Canine Cut-up', designed by Patricia Peters, was a gift from Harold and Liz Gay, importers of the first Cesky Terriers into the UK. They also gave me the fun Christmas Cesky Terrier. Both come from the USA.
Art can be practical - I use Kim Lathaen's keyring fob which depicts Ridley Obroda every single day.
Regine Royer is another very talented Cesky Terrier artist who gave me this keyring at the Eurodog Show in Kortrijk, Belgium.
This medallion was a present from Jitka Paulinova.
Jitka's daughter-in-law Lucie created the felt Cesky Terrier with his collar of Swarovski crystals.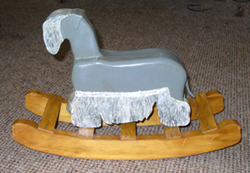 Art can also be fun! This toy Cesky Terrier was made in Canada.
One of my favourite items is this drawing of Pamatka's sire, Hector, carrying his Czech heart - it was created by Loren Marino, and was a gift from her to mark Hector's visit to Crufts 2015.