Ref:
Date:
Location:
Photographer:
Ref:
Date:
Location:
Photographer:
Fit for Function
Cesky Terriers have brains as well as beauty...
The Cesky Terrier was created to be an all-purpose hunting dog, as well as a family companion and a show dog. When bathed and brushed ready for the show ring, the breed's beauty is obvious, but this is a dog that has brains as well, and to keep your Cesky Terrier happy, he should be given every opportunity to exercise both his mind and his body.
Basic good manners are a necessity for all dogs. The Cesky Terrier is naturally obedient (much more so than most other terriers) and is easily trained. Every Cesky Terrier is capable of reaching the Kennel Club's Good Citizen award at Bronze level. With a little bit more training (of handler as well as the dog!) the Silver award is also well within the reach of most.
Ridley Pamatka receiving her Good Citizen Bronze Award, Leeds Championship Show, 2009. She also won BOB that day.
Photo by Ruth Dalrymple
Many Ridley-owned or bred Cesky Terriers can proudly claim to be 'good citizens', including Erb Lovu zdar (the first CT to gain it), Doris z Antuszy, Drina Da-Vo Ridley, Abba Melina Bohemica, Kralovna Kvitko, Dk/Lux Ch Oneva Eduard Malsville, Kilbarchan's Anika Ridley, Ridley Adam, Ridley Iza, Ridley Jitka at Woodstrode, Ridley Mirek Malsville, Ridley Tomas and Ridley Xaver. Int/Bel/Cz/Dk/Lux Ch Ridley Pamatka and Gloria Kvitko hold the Silver Award, whilst our Good Citizen 'stars', having passed the rigorous requirements for the Gold award are Ridley Javor, who was the first Cesky Terrier to gain this, and Ridley Obroda.
You can find the requirements for the Bronze award
here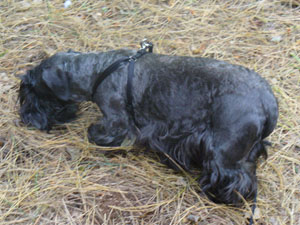 The true function of the Cesky Terrier is as an all-purpose hunting/tracking/go-to-ground dog. We have done some preliminary training in blood-tracking.
Ridley Pamatka tracking in Bourne Forest
At home, we have fun sniffing out the rabbits in our paddock!
Emily Day Break
Read more about the Cesky Terrier as a working dog